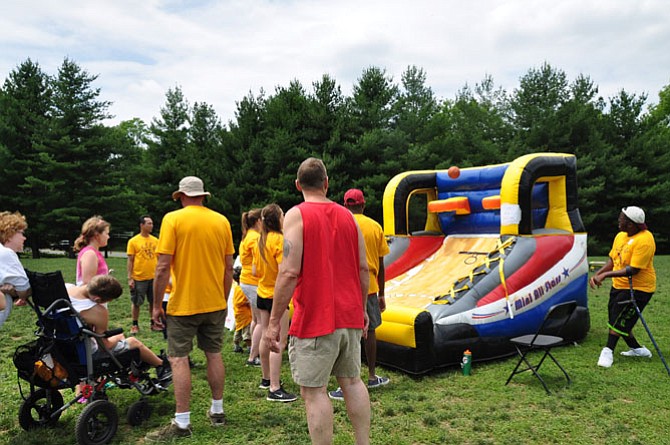 Kids Enjoying Exercise Now (KEEN) holds a special place in the hearts of many young adults with disabilities, their volunteer coaches, family members and supporters. On Sunday, June 7, KEEN participants from Maryland, D.C. and Virginia made it around the bases, jumped for volleyballs, cheered as their teammates made it through the obstacle course and played on the playground at the KEEN Sports Festival at Avenel Park.
KEEN athletes, paired one-to-one with volunteer coaches, participated in an afternoon of activities and games that ended with a giant "tug-of-war" for everybody — as well as medals for all the KEEN athletes. The number of athletes with their coaches was more than 400.
Dara Baylinson's 15-year-old son has participated in the festival for eight years. She said, "My son loves running around, the obstacle course, the playground – and particularly the pizza provided by Potomac Pizza. He is not very verbal, but the last two Sundays he has asked to go to KEEN – and he has never said that before in the entire eight years." Baylinson is impressed by the program and the enjoyment her son gets every week from attending the sports and music programs. She also enjoys the free time that she gains while her child is in the KEEN program. "It is a wonderful respite to have a couple of hours to take care of errands or to chat with a friend," she said.
KEEN Greater DC's mission is to provide opportunities for children with any type of disability to participate fully in exercise and recreational activities in the community at no charge to their families.
Director Beata Okulska said, "KEEN has grown from five children in a local gym in 1992 to more than 400 young people with disabilities. We offer 26 programs and more than 49 monthly sessions which include swimming, gym-based sports, fitness, bowling, tennis and music. Each month, KEEN Greater DC matches a trained volunteer coach with an athlete, enabling every child, even those with significant disabilities, to play, exercise, socialize, and to be part of a team in their community. Youth can stay in the KEEN program until they are 25."
Okulska shared some of the quotes from last year's parent survey. One parent commented, "It's a sense of belonging. My son is non-verbal but he shows every sign (clapping, babbling and general enthusiasm) of loving his time at KEEN. He's excited to get there and get busy. Another said, "KEEN is great. My son looks forward to going each week. The volunteers are the best and are so energetic. They truly enjoy what they are doing. Thank you KEEN."
One of the benefits of KEEN is that the children — and the volunteers all benefit. The program breaks down barriers and changes perceptions of values in life and the meaning of success. At the festival, the abilities of the athletes are recognized and the youths can participate in whatever activity they would like. They don't have to win because everyone is a winner, and but they have the opportunity to do their best at whatever they choose to do.
According to Okulska, many volunteers change their career choices after they work with the children. "They decide to change their major to special education, physical, occupational or speech therapy, or may decide to become a physician or to do research on disabilities. It's exciting to see the growth and change in perspectives of our volunteers."
Sponsors for the festival included Potomac Pizza, Kids After Hours, Drink More Water, Walgreens, Giant Foods and many other community members. Some of the volunteers were provided by Rotoract/Rotary Clubs, U.S. Air Force, Neiman Marcus of Tysons Corner, D.C. United Foundation coaches, and special guests Adam Durham, U.S. track runner, and Nick Sundberg, Redskins long snapper.