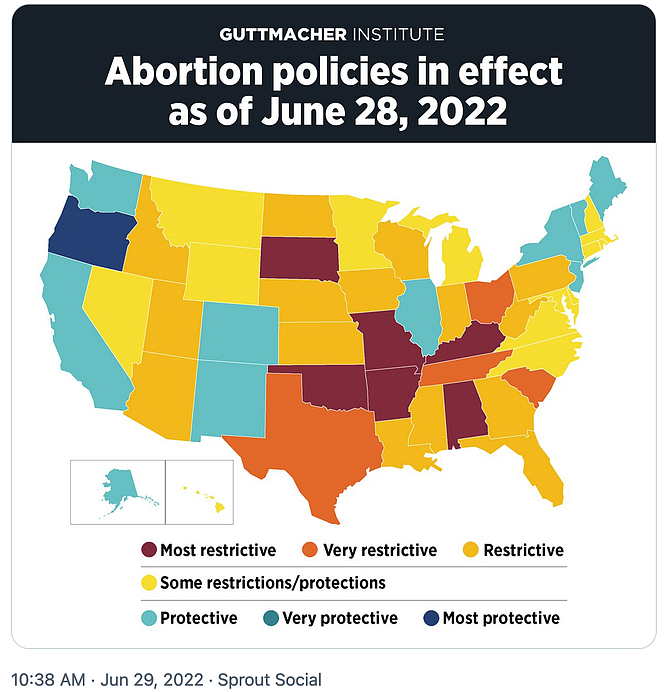 For residents in Fairfax County and the rest of Virginia and the nation, the future for abortion rights and access is uncertain now that the Supreme Court has ruled that abortion laws are up to the states. On June 28, all nine Democrats and one Republican on the Fairfax County Board of Supervisors passed a Joint Board Matter to make sure that residents know about reproductive resources, services, and facilities that are available to them in the county from private, non-profit, and public sector organizations.
"I have heard from many residents concerned about the future of abortion providers and other reproductive healthcare services in Fairfax County," said Chairman Jeffrey C. McKay (D-At-large) at the June 28 Board of Supervisors meeting. 
There will be no immediate change to abortion laws in Virginia after the U.S. Supreme Court overturned Roe v. Wade (1973) on Friday, June 24, ending nearly half a century of protected constitutional rights. Virginia law does not expressly protect or ban abortion like some other states, but Virginia does have some restrictions and protections. 
Supervisors reacted with horror to the Supreme Court's ruling. 
"We have just taken a huge, huge step backward, unimaginable in our lifetime," said Supervisor Dalia Palchik (D-Providence). "I'm scared for many young women whose lives will be negatively impacted by this." Palchik said that she had recently gone through "a very, very difficult pregnancy." 
"I must do everything I can for the safety, the health, and the well-being of all of the women and all of the children in our county, especially for those who could lose access to safe, affordable, and appropriate support," Palchik said.
According to the full text of the approved Joint Board Matter by McKay and all eight Democratic supervisors, the county's Health Department and Department of Information Technology will work together to create a website about reproductive and women's health services in Fairfax County once they have all the information they need.
Supervisor Pat Herrity (R-Springfield) said that it worried him to put out a list of potential targets accessible to people who might want to do harm. "I'm sitting here having this argument with myself (that) says I don't want those people to influence what we do for doing the right thing." Herrity said he had some concerns but would wait until he saw the list. "I'll support the motion to pull together this comprehensive list and have a discussion," he said.
According to McKay, the Supreme Court's ruling does not make abortion illegal in Virginia. It does put the decision into the hands of the Virginia state legislature. Some have already promoted proposals that, if enacted, would severely restrict a woman's access to abortion. "I think we have a moral obligation to make sure that we calm people's fears about misinformation," McKay said.
Gov. Glenn Youngkin (R) said in a statement on Friday, June 24, that he planned to take every action he could to restrict abortion. "The truth is, Virginians want fewer abortions, not more abortions. We can build a bipartisan consensus on protecting the lives of unborn children, especially when they begin to feel pain in the womb, and importantly, supporting mothers and families who choose life," he said. Youngkin asked four Republican lawmakers "to do the important work needed and be prepared to introduce legislation when the General Assembly returns in January."
Youngkin told the Washington Post on Friday, June 24, that he would seek legislation restricting most abortions after 15 weeks. Youngkin also said that a 20-week ban might be needed as a compromise to get the Virginia legislature to agree on something.
In Virginia, neither party has a trifecta. The Republican Party holds the governorship and the House 52 to 48. Democrats narrowly control the Senate 21 to 19. Abortion rights will be a top issue in the 2022 elections.
Additionally, the approved Joint Board Matter directed its Legislation Director to inform the Board of any existing or possible legislative initiatives in the Virginia General Assembly that might threaten or protect reproductive rights in Virginia. 
Supervisor Rodney Lusk (D-Lee) noted the most vulnerable will be those who have the lowest incomes and are from minority groups. "Let's be frank here; they won't have the same opportunity to go to a place to receive this abortion outside of Virginia if (they) presumably make that decision. … This will be a tragedy and travesty."
Supervisor Kathy Smith's voice cracked, saying that women should have the right to have medical professionals take care of their bodies. Smith (D-Sully) said that women of a certain age know what happens to women who find abortions elsewhere. "I know that many of my colleagues are going to stand up for women, and we're going to stand up in our legislative package. I'm sorry I got so emotional."
Vice Chairman Penny Gross (D-Mason) said that there is more to healthcare than whether a woman is going to have an abortion or not. There are Pap smears and breast care. "I think we all agree (that) those decisions should be private and shared with just the woman, her medical provider, (and) if she wishes to include her family." 
Gross mentioned that other legislation might be overturned outside of abortion. "We absolutely need to do this here at this table today. We are staying in our lane ... We absolutely need to keep track of what may be coming along in new legislation."