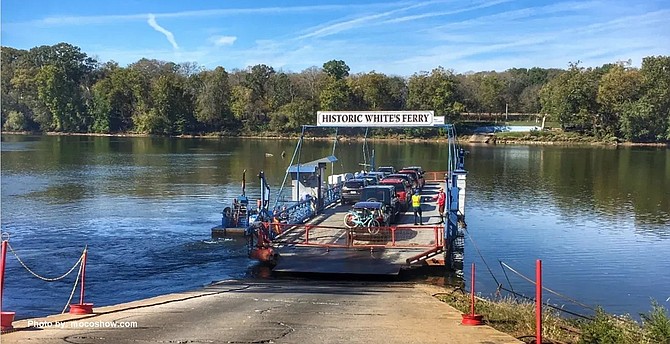 After purchasing historic White's Ferry in February 2021, Chuck and Stacy Kuhn encountered obstacles to reopening this important Potomac River crossing. The ferry needs to regain the right to access in Virginia.  
In response to the suspended service, Loudoun and Montgomery counties conducted a study to evaluate alternatives and address issues, challenges and opportunities for restoring the service. 
Below is a statement from Chuck Kuhn, owner, White's Ferry about the just released study:
"We appreciate the work and insights from the recent joint study by Montgomery and Loudoun Counties. It underscores White's Ferry importance to the region and also revealed the difficulties in maintaining and making the ferry a private successful enterprise as the previous owners recognized. We remain committed to making White's Ferry operational and affordable for customers. The ferry is a scenic crossing but also an important connection that helps employees get to work and contributes to the economy in many other ways. The impasse has cost people time and money and added traffic and environmental woes to our community.  We look to the counties to help us move forward and support whatever direction they deem best to get White's Ferry working for our region."
Established in 1786, the ferry remained a significant transportation route between Maryland and Virginia, carrying nearly 800 daily users when it was operational. White's Ferry represents a piece of the region's past as an early commerce route that built and sustained local economies and remains so today. The Kuhns have already embarked on a number of upgrades to the ferry to bring more operational and environmental efficiencies to improve services and preserve a piece of history. More information and updates about the Ferry can be found at https://www.whites-ferry.com/.
White's Ferry is a historic cable ferry crossing the Potomac River connecting Loudoun County, Va., north of Leesburg, and Montgomery County, Md., southwest of Poolesville. 
In December 2020, ferry operations abruptly ceased over disputes and lawsuits related to the ownership and access to the Virginia-side landing. The owners of that property and the owners of White's Ferry could not come to an agreement regarding compensation for the use of the landing and access road. Service has been suspended throughout 2021, significantly impacting travel time and costs for the many regular users of the service, who raised their concerns to elected officials on both sides of the river. 
During the spring of 2021, ferry assets (and later, property) on the Maryland shore were acquired by Loudoun County businessman Chuck Kuhn. His stated goal was to restore service and manage the operation to ensure that it was once again, and for years to come, available for travelers. In response to the impasse and the suspended service, Loudoun County and Montgomery County evaluated alternatives for restoring White's Ferry service across the Potomac River between the two counties. The study intended to address both short-term and long-term operations, issues, challenges and opportunities for restoring and potentially enhancing this important regional transportation link.
Study Results
Ferry service across the Potomac River is recognized as an important part of the region's transportation network. White's Ferry ceased operations on Dec. 28, 2020, following a Circuit Court opinion in a private lawsuit over the use of private land for the ferry landing in Virginia. Prior to closing, White's Ferry transported approximately 600 to 800 vehicles per day across the river and connected bicyclists and pedestrians between Montgomery County, Md., and Loudoun County, Va.
Montgomery County worked jointly with Loudoun County to conduct a study of the White's Ferry's operations as well as an evaluation of land ownership and acquisition scenarios for the Virginia landing. The study evaluated the long-term feasibility and reliability of the Potomac River ferry service between Montgomery and Loudoun Counties, and helped identify alternatives for ferry operations with a common goal of re-establishing daily ferry service that benefits the community.
The joint study was led by the Montgomery County Department of Transportation and the Loudoun County Department of Transportation and Capital Infrastructure. The study's scope includes:
Roadway access and ferry use along with any other pertinent transportation issues

Identifying legal and regulatory requirements associated with ferry operations.

Landing site improvements and landing location options.

Operating alternatives that may include a public/private partnership.
The study is interesting and the photos are worth looking at. You can however, sum up the 137 pages by saying that no simple solutions presented themselves.
See more at 
https://www.montgomerycountymd.gov/DOT/Resources/Files/White's%20Ferry%20Study%20Final%2010_20_21.pdf