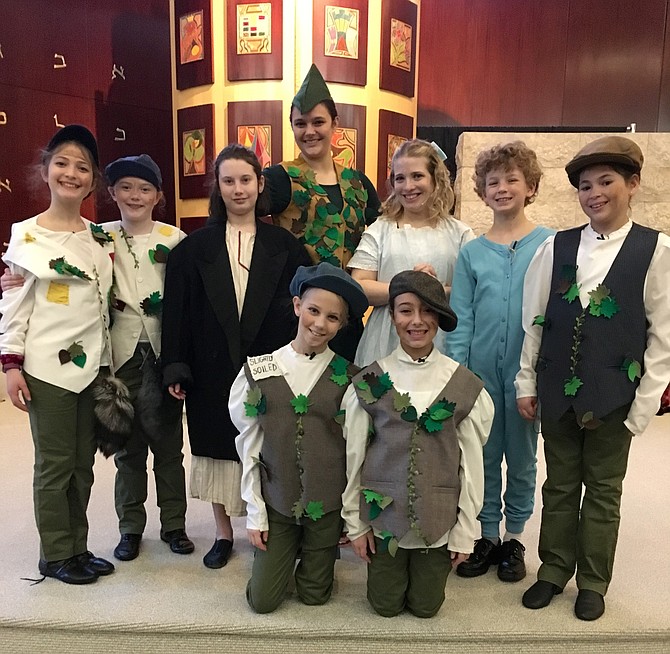 It's all about family and community at Theatre@CBT's upcoming production of Peter Pan.
The show's producer and Mrs. Darling, Lauren-Nicole Gabel, has two daughters in the show and her husband is in charge of front-of-the-house on performance nights.
Colleen Williams, a pirate, is the mother of another pirate and one Lost Boy.
Mr. Darling, played by Jeff Breslow, and his daughter are both in the play.
And Elizabeth Weiss, who plays the grownup Wendy, and is the main costumer for the cast, is engaged to Captain Hook, Tom Barylski. The couple plans to marry in the fall.
"We pride ourselves on being a family," Weiss said.
For the group's Spring production, one of two they present each year, they always look for a family friendly show that has lots of roles for kids, Gabel said.
"The mission is to build community and also teach the kids," she said.
There are almost three dozen kids in Peter Pan which will be presented this weekend, Saturday, Feb. 22 at 8 p.m. and Sunday, Feb. 23, at 2 p.m. at B'nai Tzedek Synagogue, 10621 S. Glen Road.
The group has been working on the production since mid-December according to Laura Searles, who plays the title role. Actors do not have to be members of the congregation, she said, another way to build community.
Searles said she is a "community theater actor," so when she heard about auditions she tried out and got the part.
This is not her first role in a musical, that was when she was about seven, when she played Gretel in The Sound of Music, she said. Now as one of the adults is the cast, she says she has been in several plays around the area, years after that first role.
"It's a lot of people having fun," she said of community theater.
Breslow, another of the adults in the cast, said he has been doing theater since elementary school.
"I love it, it's fun," he said. "I come from a very musical family, every Sunday we would gather around the piano and sing."
His daughter, Jayna, 8, is one of the Warrior Girls.
"It's a good way for the kids to participate, to see what community theater is about," he said. "You have to be self-reliant and self-disciplined."
Lauren Fielding is the "Child Wrangler" for the production.
"I make sure they have a good experience doing this," she said. "[Help them] learn their dances so they will feel confident."
Peter Pan is a musical based on the play by Sir J.M. Barrie which was first produced in 1904. It came to Broadway in 1954 and now is coming to Potomac through special arrangement with Music Theatre International.
Tickets are $15 plus a $3 fee for each performance. To order go to www.bnaitzedek.org and select Community Theatre CBT. Tickets will also be available at the time of the performance.