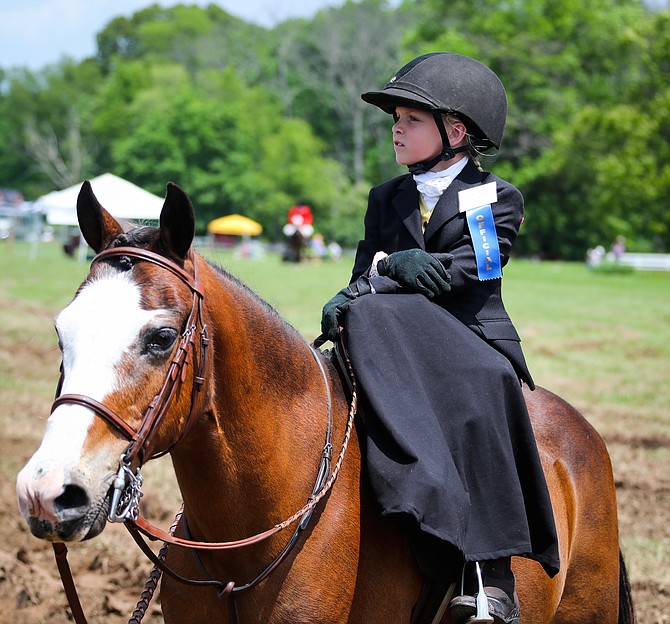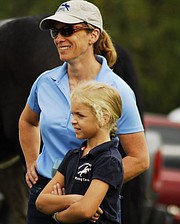 It was an intriguing note on the Potomac Hunt's Facebook page:
"Could you help us raise funds for Cystic Fibrosis research in support of one of our youngest and arguably most tenacious and poised members?
Brynn is the epitome of not letting a disease define your life even though she battles it every day. She fox hunts, races ponies and even gave a speech about living with CF in front of 500 people at the Grand National! "And these are just her equestrian pursuits!
"Please consider donating to Jo Meszoly's Xtreme Hike fundraiser in support of more research into cures and better treatments for CF. http://fightcf.cff.org/goto/Brynn."
Brynn is Brynn Miller, a nine-year-old who was diagnosed with Cystic Fibrosis at birth.
"[It's a disease] that thickens the mucus in your body," Brynn's mother, Joanne Meszoly, said. "The big thing is the lungs and lung infection."
Meszoly said 30-35,000 Americans have Cystic Fibrosis.
"What is significant is that thirty or forty years ago you didn't live past childhood [with Cystic Fibrosis]," she said. "Now a drug is available. The FDA approved in 1994 that was a game changer. Now they say 38 is the average life expectancy."
Meszoly is hopeful that new life extending treatments will become available during Brynn's lifetime.
"In early 2019, I attended an annual Cystic Fibrosis Foundation meeting, which [discusses] successes and reviews upcoming developments. Despite its upbeat intent, this meeting typically leaves me distressed and upset, as I mull over Cystic Fibrosis's debilitating nature, and imagine Brynn's ailing health.
"But – for the first time – this meeting filled me with hope: there is new, undeniable progress in Cystic Fibrosis treatment and management. Gone are the days when CF sufferers rarely lived beyond elementary school. And while Brynn slips on a therapeutic vest twice daily for airway clearance, she won't be glued to the couch – tethered by tubes and a loud, clunky machine – forever," Meszoly said.
A battery-operated vest, containing oscillating motors, was recently approved for CF lung therapy.
"Eventually, Brynn will be fitted for a mobile vest, allowing her to roam the house, or even go "walkabout," (as she often does) while receiving vital airway clearance, Meszoly said.
For now, Brynn said she does not like to be hitched up to a machine twice a day to help move the mucus from her lungs, which makes the prospect of a portable vest very appealing.
Meszoly and her husband Martin Miller are dedicated fundraisers for Cystic Fibrosis research, and for the last seven years have been involved in planning Metro DC's Xtreme Hike, which this month will be a 25-mile trek in Massanutten, Virginia, Sept. 27-29.
"Xtreme Hike is about reaching new heights physically and philanthropically. It is a journey of passion, determination and personal triumph as much as it is an opportunity to make a difference in the lives of people with cystic fibrosis," according to the hike's website.
In addition to fundraising, Meszoly and Miller hope to increase awareness of Cystic Fibrosis.
"Without funding and research, we would not have these medications, Meszoly said. "CF is looking for a cure. I don't expect a cure in Brynn's life, I'm looking for a longer, fuller life. Quality of life is a big thing."
Talking to Brynn gives the idea that she too knows the importance of quality in her life. Besides going to school, she is involved in Pony Club and rides with the Potomac Hunt. And she plays soccer.
Though she understands the limits CF puts on her life, she does what she can.
She said the biggest challenge is having to explain her disease to others.
"People don't understand, it's an invisible disease," she said.
She rides her Welsh pony, Rocky, in the Potomac Hunt, where she is the youngest rider. It's mostly adults, she said.
"I like going fast," she said. "I like the thrill, and that its something only I do," she said.
To donate to cystic fibrosis research and support Xtreme hike, visit Meszoly's fundraiser site:
http://fightcf.cff.org/goto/Brynn