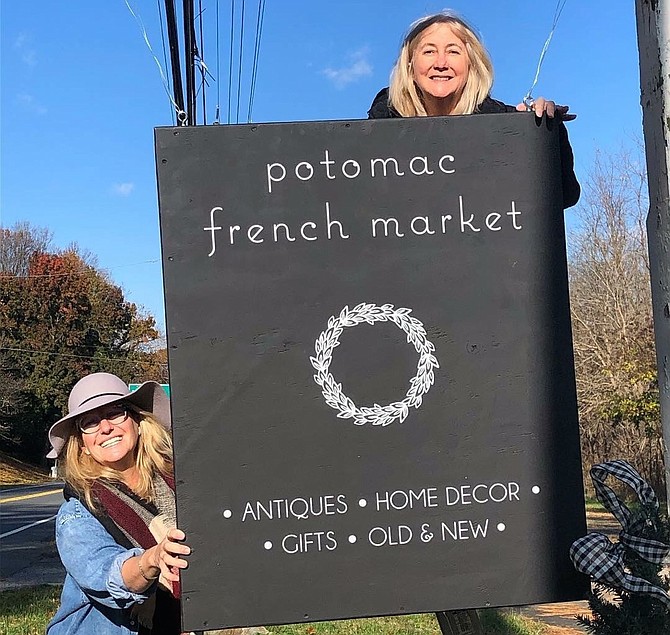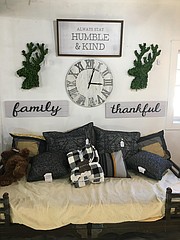 There is a new shop in town — a place to buy antiques, home goods, gifts, seasonal items and a little bit of anything else.
Potomac French Market opened in mid-November in the River Road location recently vacated by Sonoran Rose.
Owners and Potomac residents Rene Shaw and Teri Troxell chose the name of their shop because, Shaw said, Troxell likes the New Orleans French Market and she enjoys browsing the open-air markets in France.
"It really started as an homage to outdoor shopping, everything under one outdoor space," Troxell said.
The Potomac French Market has the feel that anything can be found there, like a yard sale with walls and a roof.
There are candles, linens, pillows and throws, all arranged on furniture that is for sale, plus used dishes, new hats and gloves, wall hangings and jewelry.
Tucked along the back wall there is an old set of Cypress Gardens water skis and two wood and canvas beach chairs.
Shoppers can find items priced from one dollar to $1,200, Shaw said.
Holiday socks and Christmas ornaments are now on sale for one dollar and a set of antique doors go for $1,200.
"The story is the wood doors and decorative ['knobs'] are original, from a Buddhist monastery," Shaw said. "I was told the ornament in the center is later. It's absolutely beautiful."
Shaw said her favorite piece in the store is an old desk.
"Its old and I just love it," she said showing a well used wooden desk.
Troxell, too selected a piece of furniture as her favorite.
"It's probably the farmhouse table acquired from a barn sale in Potomac," Troxell said. "I love tables and dishes and arranging them."
The two women have known each other for years, Troxell said, they both had children who attended Wootton High School.
They talked and dreamed about going into business together and had their first tent sale in 2017 at the corner of Travilah and Glen roads.
After that, they did pop-up markets in the area and had a stall in an antique shop in Buckeystown, but are now happy to have a place of their own.
"We are so happy we actually have a key and electricity and can leave it all there," Troxell said.
Shaw and Troxell both said the community has been very supportive of their new endeavor. Though they do not take items on consignment, they will consider buying antiques residents want to sell. They also have items from local artists and craftspeople for sale. Among those are paintings by Christine Zmuda and locally produced Jed's Honey.
"We would like to find someone local who makes hand knitted or crocheted white baby blankets and caps," Shaw wrote in a text. "We just think every baby deserves a blanket made with love."
To bring the community into the circle of eclectic shopping, Potomac French Market will hold a Tag Sale Friday Jan. 25 through Sunday, Jan. 27.
"It's for anyone who wants to have a garage sale but doesn't want to have it in their home," Shaw said. "They can rent a space from us."
Potomac French Market, 12211 River Road (across from the WSSC water filtration plant) is open 2-6 p.m. Thursday and Friday, 10 a.m. to 6 p.m. Saturday and 11 a.m. to 5 p.m. Sunday.
"Or by appointment or chance," Shaw said.
Call 301-807-9945 or visit potomacfrenchmarket.com.