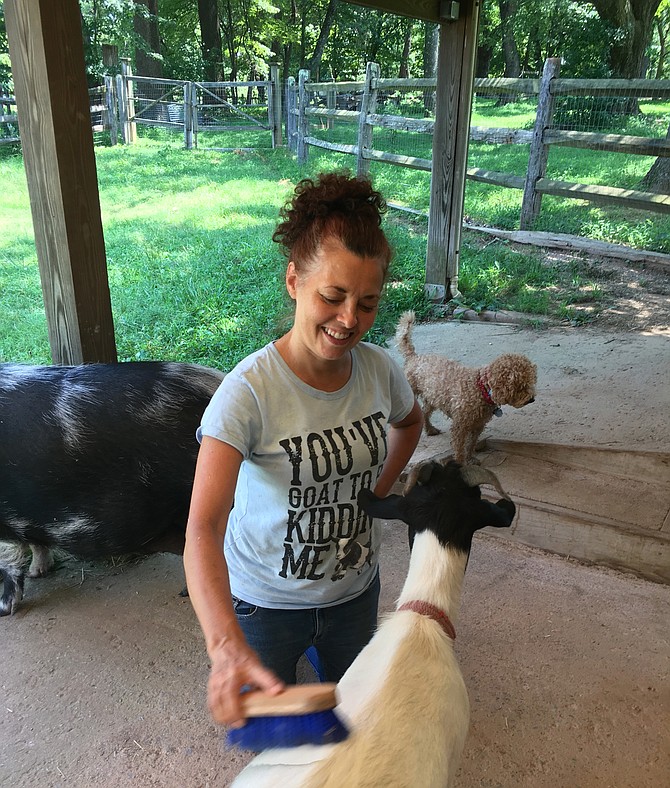 There is plenty new at Dream Catcher Meadows in Potomac: new name, new garden, new compost pile and new volunteers every month.
But the six-acre farm, once called Dream Catcher Farm, is sticking with its original vision to offer an opportunity "for belonging and inclusion for neurodiverse and neurotypical individuals."
Last Saturday the farm was open for "Saturdays on the Farm," a twice monthly opportunity for community members to visit the farm and volunteer with the animals, work in the garden or just relax.
Dream Catcher Meadows is the vision of Susan Rich, MD, MPH, who has a private practice in child and adolescent psychiatry. It is operated by 7th Generation Foundation, Inc., a 501c3 established in 2014 and "dedicated to raising awareness and developing inclusive, supportive programs for individuals with neurodevelopmental disorder associated with prenatal alcohol exposure and related conditions," according to the farm brochure.
"The idea of teaching children [farm] skills is that it gives the life skills and job skills plus confidence," Rich said.
She said she started using animals with children after a young client had a meltdown. She had a rescue guinea pig and found the guinea pig helped the client calm.
"Evolutionarily, we evolved with animals," she said.
Vicky Skene, of Toronto, Canada, whose grandparents began a website for families with Fetal Alcohol Syndrome: Fasworld Canada, is spending her second visit at Dream Catcher Meadows. She said she comes for a month each summer.
"It's a nice break," she said. "It's a judgment-free zone. Susan is always here to guide you."
Vicky also said the animals are very calming and she often spends time in the barn with the goats.
Amy Dine and her son Jacob Stefanick spent much of Saturday working in the newly established organic garden. They have planted the "Three Sisters": corn, beans and squash; plus watermelon, radishes and carrots.
Dine believes Rich's vision of a farm and wellness center is perfect for her needs and those of her son.
"It's been a truly remarkable place to come for both me and my son," Dine said. "Susan has a great outlook on giving people work."
To learn more about Dream Catcher Meadows visit Dream Catcher Meadows on Facebook.
To learn more about Susan Rich, visit: www.susandrich.com.
Saturday on the Farm
Saturday, Aug. 24, 2019, 10 a.m. – 2 p.m.
Come out to enjoy the benefits of nature and interacting with farm animals - building structures for the goats, digging a pit for the pig, watering/weeding the garden, or cleaning out a stall.
MCPS students can earn SSL hours while participating in the agricultural activities and young adults can learn job skills while socializing with others.
We typically have donuts, bottled water, and snacks. Volunteers are encouraged to bring a bag lunch and their own reusable water bottle. Long pants, boots or work shoes, and gloves are recommended.
Volunteers will sign a waiver upon arrival. We meet at the back of the property by the barn. Children ages 8 to 14 must be accompanied by a parent and younger than age 8 are unable to participate at this time in the Saturday on the Farm program.
https://www.facebook.com/susan.d.rich.5
https://www.facebook.com/DreamcatcherMeadow/