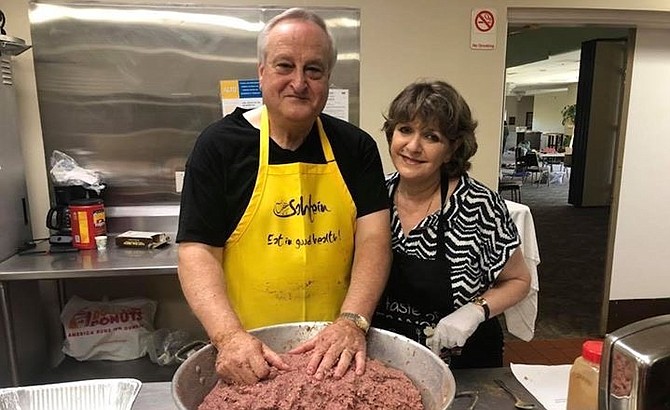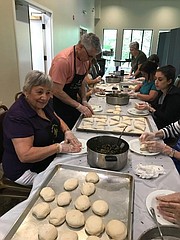 Saints Peter & Paul Antiochian Orthodox Christian Church is ready for its 35th annual Mediterranean Festival Sept. 21-23. In August, preparations began with a grape leaves cooking session, one of many planned to prepare for the festival.
Hala Paskaleva enjoys coming to the annual cooking sessions because she learns how to make Arabic food. As a child, she was taught to make traditional dishes by her mom and feels, "it is fun to come here and see different techniques and learn from the ladies of the church. What's nice is that we are from all over the Arab world. There are third and fourth generations here. I am the first generation to be born in this country. Now I bring my daughter who gets to put her hands in the dough and learn the names of the food.
"Food is memories. We eat when we are sad and when we are happy we celebrate with food. At the festival all the food is made with love. We welcome everyone and want to show them what it is like to be a part of our family. We hope people get to know us and our culture."
Steve Simon said, "This event is more than fundraising; it is about sharing our culture with the community. It is about maintaining traditions and understanding customs and there is no better way to share than through food. It is fun to see many generation working together to prepare the different dishes."
Nadia El-Hage said, "This is our church, and we try to help before the festival in any way we can, and come to help prepare food whenever we can. We help to organize and are happy to do that. We are a close-knit community. I made traditional food for my children every Friday. The food is time consuming to make, but worth it in the end."
Michael El-Hage said, "We rolled 3,500 grape leaves with over 20 people rolling and stuffing them with the meat and rice mixture.
Father Isaac Crow said, "Middle Eastern food is widely available now. We represent food from many countries: Syria, Jordan, Lebanon, Palestine, Greece, Turkey. The grape leaves are made differently in each country. All the food at the festival is handmade. It will be three days of food, community, culture and faith. We are reaching out to the community and this is an important event for us. We are an immigrant culture and are proud and honored to be a part of the community."
All the food is made from family recipes and each year some new dishes are offered. The festival will also have guided tours of the church and Byzantine singing. There will also be activities for children to do such as face painting, a playground, crafts, and games. Saturday night there will be a DJ and dancing.
The bazaar will feature authentic, homemade cuisine and sweets such as grape leaves, kibbi, spinach pies, falafel, gyros, shawarma, leg of lamb, chicken kabobs, vegetarian dishes, ma'amoul cookies, and custard triangles with orange blossom glaze. Booths will be selling international groceries, jewelry, clothes, art, local crafts, olive oil and religious items.
Saints Peter and Paul Antiochian Orthodox Christian Church's 35th Annual Middle Eastern Festival features authentic Middle Eastern food, music, giftware, raffles, pastries and jewelry. Free parking, free admission, carry-out available. The church is located at 10620 River Road, Potomac. For more information, call 301-765-3400 or visit www.peterpaulpotomac.org