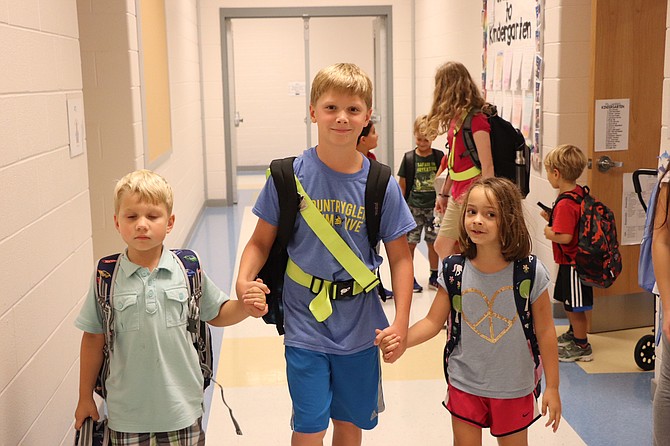 "I promise to do my best to:
report for duty on time
perform my duties faithfully
strive to prevent traffic crashes
always setting a good example myself
obey my teachers and officers of the patrol
report dangerous student practices
strive to earn the respect of fellow students."
That is the School Safety Patrol pledge.
It is a lot for 10-year-olds to live up to, but they grow into the responsibility as they grow as fifth graders, according to Julie Macro, a fifth-grade teacher and Safety Patrol sponsor, along with fourth grade teacher Lilit Bayburtian, at Wayside Elementary School.
"At Wayside, every fifth grader has a job," Macro said. "Patrols tends to be one of the favorites. It's a fifth-grade thing: they get to walk around, be in charge, and there is the Patrol Picnic."
The Patrol Picnic is a reward in the spring for all county patrols — not all on the same day. It is a day of carnival rides, lunch and hanging out with friends. It is a big deal for the patrols.
Macro was a patrol at Dufief Elementary School when she was in fifth grade and still remembers her patrol picnic.
"It rained," she said. "But we could still got to go on the rides."
Before they earn that picnic, Wayside patrols help in the halls, the school bus and carpool lines, while riding on the buses and helping students in wheelchairs from the school's School Community Based Program, Macro said.
"They do a great job," she said. "Especially in the beginning of the year when kids don't know where to go. They walk with the kindergarteners and first graders. They are great role models."
Patrols are an important part of a smooth-running school Principal Donna Michela said.
"There are just not enough adults to cover everything," she said. "We have adults with the patrols where we need to for safety, but [the kids are a big help]."
Together Macro and Bayburtian work with 58 patrols who are among the approximately 7,000 patrols across the county, Montgomery County Police Officer Terese Guilday said. Guilday supervises County Safety Patrols and supervises and trains crossing guards.
"I love working with the kids," Guilday said. "It's a very positive and rewarding job for a police officer. It helps [them] develop a positive attitude towards police."
Guilday, too, said that being a patrol encourages the kids to develop leadership skills, and she added, they are also learning problem solving and improving communication skills.
"They really develop leadership and are doing something for their community," said. "And they are working as a team.
"They are like extra eyes and ears of the community. Parents rely on them, teachers rely on them. They are often the ones who spot suspicious vehicles. We train them to be aware of their surroundings, let someone know if there is something suspicious, don't keep it to yourself."
Macro said she notices her patrols as they grow in leadership and responsibility.
"At meetings they talk about jobs and where changes need to be made," she said.
They make suggestions for improving their coverage.
The School Safety Patrol program was started in 1920 by the American Automobile Association. Presidents Jimmy Carter and Bill Clinton were former patrols as were 21 astronauts, according to Wikipedia.
At Wayside, the patrols are gaining skills for their futures.