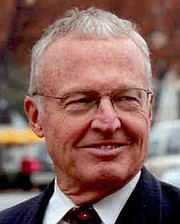 Why are you running for Montgomery County Executive?
We need change as evidenced by the 70%, 300,000 votes for my 2016 Term Limits charter amendment, which was opposed by all our opponents in this race. I am the only candidate who opposed the unanimous 9% property tax hike, the 156% residential energy tax hike, the 30% real estate transfer tax hike and the 30% council pay hike before they took place. No tax increases for the next 4 years. I have never met a Montgomery County resident I didn't like.
Past experience, political and/or professional.

Elected MD House of Delegates from Potomac. Only County Executive hopeful with Honorable Discharge from U.S. Armed Services or with any experience in MD Courts — completed 35,000 cases — still in Court every day. Collected signatures for and passed, over the opposition of all other County Executive hopefuls, 2008 Charter Amendment requiring unanimous council vote to increase property taxes more than rate of inflation. It stopped property tax increases in 2009, 2010, 2011, 2012, 2013,2014, 2015, and 2017, saving the average homeowner $10,000+!
What do you consider the biggest problem Montgomery County faces today?

There is a hostile reception to new business. I shall be open-armed and welcoming. The county government will be kinder, gentler, and smarter with half of my appointments being female. I won Maryland's definitive sex discrimination lawsuit, outlawing ratings of female job applicants as to physique and facial features, and eliminating questions about child care arrangements and marital status.
What is your dream accomplishment for the County?

To put the people back in charge of the County government instead of vice versa. I shall move the County Executive office down to the first floor and each Monday morning, from 6-9 a.m. shall hold "County Executive Open, First-come First-served Hours" with you, my boss the voters.
Is there anything else you think voters should know about your when deciding who to vote for?
I lived in Potomac for many years and placed and passed the charter amendment forbidding the county to put the county garbage dump where the Avenel golf course is today. Also passed charter amendment forbidding trenching of sewage sludge in residential zones and placed before voters about 20 other charter amendments which sought to make count government more thrifty and efficient. Please visit robindeliversforyou.com.