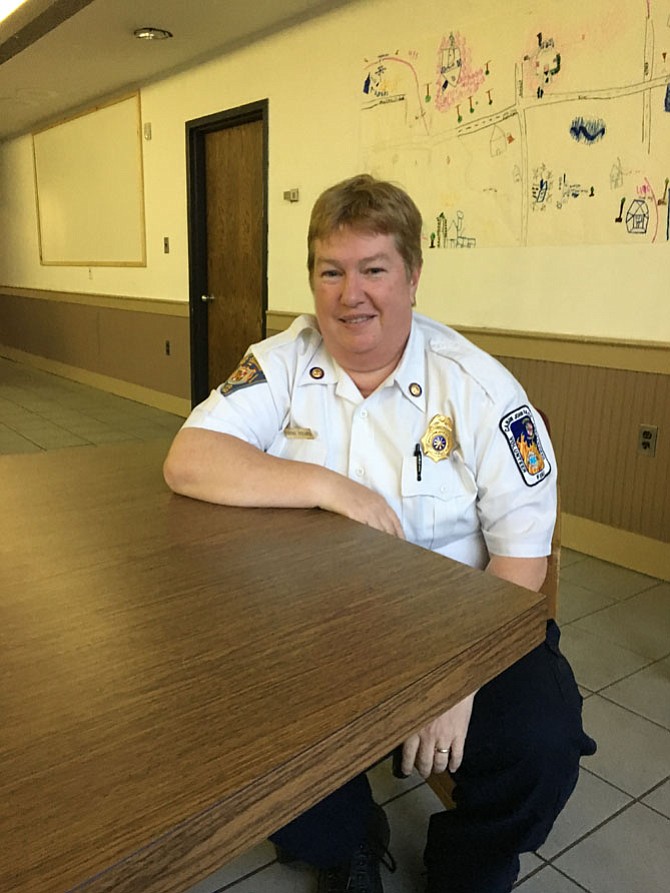 Corinne Piccardi, deputy fire chief at Cabin John Park Volunteer fire Department, follows her heart.
Piccardi, 46, who grew up in Australia, came to the United States as a high school exchange student, "loved it", she said, and resolved to return for good.
Years later, as a teacher commuting down River Road every day, she saw a sign on the Fire Station 10, near Seven Locks Road, reading: "volunteers needed."
"So I thought, 'why not'," she said. "I came in and it took off from there."
"I like running calls because when it comes down to it, I like helping people." — Corinne Piccardi, Deputy Fire Chief, Cabin John Park Volunteer Fire Department
She said she wanted to do something other than teaching.
She taught physical education and health at Washington Episcopal School in Bethesda, working with students in grades pre-K through eight. A career she enjoyed, she said.
But teaching young children, she said, does not often provide immediately visible results, but as a volunteer with the fire department, she sees results right away.
"We're really proud that the fire department saves lives," Piccardi said.
She said she liked being a firefighter right away, starting at the bottom rung of the ladder as a probationary member, taking hours of training and working her way up to full membership and qualifications as EMT, working ambulance runs and as a firefighter able to drive the company's fire trucks.
"I like running calls," she said, "because when it comes down to it, I like helping people."
As the years passed and Piccardi became more involved in fire and rescue work, she retired from teaching.
Some of that was because she had moved to Baltimore and the commute to Bethesda took, sometimes, as long as three hours, some because the cost of daycare for her daughter was so high she decided to stay home and be a full time caretaker.
"I was spending more time with other people's kids than my own,' she said.
Still, she stayed with her new career as a firefighter and paramedic, and is now full time with Carroll County — and still a volunteer with Cabin John Park Volunteer Company.
Piccardi is proud of the Cabin John Park volunteers and want the community to know more about them.
"We have over 100 volunteers between administration and operational members," she said.
The company operates out of two stations, Station 10 on River Road, where Piccardi started, and Station 30 on Falls Road.
"Between the two stations we run about 3,500 calls per year," Piccardi said.
She often emphasizes the place the department has in the community.
The company participates in parades, does the December Santa Runs, collects toys for the National Children's Center in Bethesda and two Potomac communities. Among its most noticeable fundraisers are the annual Christmas tree sale and birthday parties at the station.
Money from the fundraisers is used directly in the Potomac community, notably for the lifesaving apparatus firefighters and paramedics use.
Besides raising much needed funds, Piccardi said they want to get into the community to know people and become known to them.
"So you are not just seeing us on your worst day," she said.
Piccardi is expected to become chief of Cabin John Park Volunteer Fire Department when a new chief is elected in December 2017. The current chief, Jim Seavey, is retiring at the end of the year after about 36 years Piccardi said.
If she is elected, Piccardi will be the first volunteer female chief officer in Montgomery County.
Though she admits that firefighting and rescue work is a male dominated occupation she said she has never had a problem as a female member.
"Montgomery County is very good about equal opportunity," she said.
She does not think in terms of gender while at work.
"They are my firefighters," she said. "Whether you are male or female you get the job done."
And, she adds, the call for new volunteers is still out.
Anyone interested can get more information at www.cjpvfd.org/volunteer.