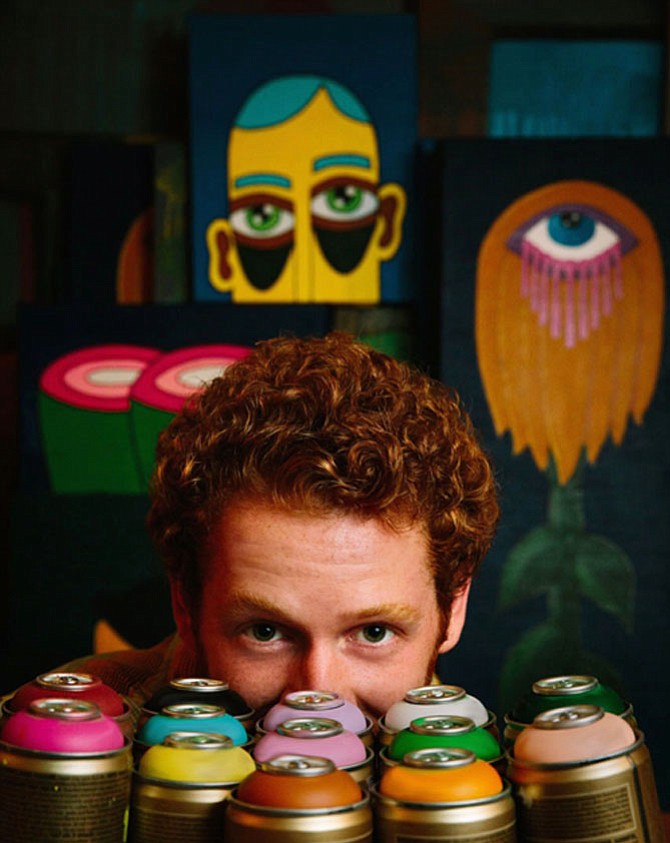 Art Basel-Miami Beach is one the premier art shows held annually in the U.S. It is an extension of the world-famous Art Basel in Switzerland that has morphed into a global show in cities around the world. In the American show, "leading galleries from North America, Latin America, Europe, Asia and Africa show significant work from the masters of Modern and contemporary art, as well the new generation of emerging stars. Paintings, sculptures, installations, photographs, films, and editioned works of the highest quality are on display in the main exhibition hall. Ambitious large‐scale artworks, films and performances become part of the city's outdoor landscape at nearby Collins Park and SoundScape Park."
Potomac's Max Mueller has been asked to display his talents in this prestigious show.
Mueller, the son of Janice and Michael Mueller, grew up in Potomac, attended Seven Locks Elementary, Cabin John Middle and graduated in 2011 from Winston Churchill High School.
"I've drawn, painted and created things with my hands ever since I can remember," he said. "I really owe it to my parents for nurturing my creativity and exposing me to so many kinds of art and cultures from such a young age. I always loved art and using my imagination."
At Winston Churchill High School, he chose Honors and AP Art classes and, in his junior year, had the opportunity to display his art in juried art competitions such as the John Hopkins' VisArts competition where he received an honorable mention. In his senior year, he won the Gold Key Award from Scholastic Art and Writing and was accepted into the Parsons School of Design in New York City to study industrial and product design. He graduated in 2015 and makes Brooklyn his home.
"Winston Churchill High School is where I really started my journey to becoming an artist," he said. "I had the most amazing teacher, Alexandra Michaels, who taught me so much. The first art show I was ever a part of was at Behnke's Nursery in April of 2009. This is where I fell in love with showcasing my work. I also apprenticed and studied painting at Yellow Barn Studios at Glen Echo Park where I did a lot of still life and nude figure studies. I built the foundation, but knew that my art would always be influenced more by the cultures of skateboarding, cartoons, folk art, pop art, low-brow, DIY and street art."
Although his day job is in apparel design "to be able to afford his creativity," his real love is working in his studio and displaying his art in shows and galleries.
"I have been so fortunate that I have met success through following my passions. I have been a skateboarder since I was 7 and when I moved to New York, skateboarding was my main form of transportation. I became acquainted with the skateboarding community and through the people I met, I became hooked up with Adidas — who really put me on the map. I did shirts, shoes and then was featured on the back cover of the August issue of Juxtapoz Art and Culture Magazine. I have also done designs for Vans, Mountain Dew, Mike Vallely, Arizona Ice Tea, NYSkateboarding, Barnes and Noble and many more."
This year, Adidas will be featuring 14 artists from around the world — and Mueller is one of four from the U.S. chosen to participate. "I would not be at Art Basel – Miami Beach if it weren't for Adidas," he said. "My goal is to be able to pursue my art as a full-time job; right now, I am just excited and pleased that companies are seeking me out for my designs."
To view more of Mueller's art go to: www.muellerstudios.net.