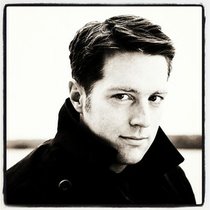 Michael Lee Pope is an award-winning journalist who lives in Old Town Alexandria. He has reported for NPR, the New York Daily News and Northern Virginia Magazine. He has a master's degree in American Studies from Florida State University, and he is a former adjunct professor at Tallahassee Community College. Pope is the author of four books.
Recent Stories

Small businesses wait for banks to get federal money from the Paycheck Protection Program.
Like many business owners across Northern Virginia, Cyrille Brenac is still waiting to hear back from his bank about his application to the Paycheck Protection Program. That's the $350 billion program that was part of the $2.2 trillion stimulus law designed to offer money to small businesses who can demonstrate they are keeping their employees. For Brenac, who lives in the Cherrydale neighborhood of Arlington, the money would help him rehire about 50 employees of his two French restaurants he laid off when the economy abruptly shut down as the result of the global COVID-19 pandemic.

Democrats sweep statewide races and come close to taking over House of Delegates.
Democrats swept all three statewide seats this week and picked up so many seats in the House of Delegates that control of the chamber is now in doubt. Voters rejected Republican arguments about sanctuary cities and Confederate memorials, divisive issues that had moderate Republicans trying to win over the most extreme elements of President Donald Trump's coalition.

TitleMax, LoanMax and Fast Auto Loans will be able to keep details about their business secret.
How many cars did TitleMax repossess last year? What was the average loan amount for LoanMax? How many judgments did Fast Auto Loans obtain against people who were so hard up for cash that they handed over the title to their automobiles? That's all information that these companies handed over to state regulators last year. But according to a new ruling from the Supreme Court of Virginia, it's also information that these companies can keep secret.
In Session: Virginia Assembly Briefs
Region has some of the highest rates of cesarean-section deliveries for low-risk pregnancies.
Behind the closed doors at Inova Fairfax Hospital in Falls Church and the Virginia Hospital Center in Arlington, a quiet change has been taking shape over the last few decades.

Sequester looms large over revenues across Northern Virginia.
Sales tax revenues are down across Northern Virginia, leading to concerns that balancing the books for the coming fiscal year could be even more of a challenge for budget officials and elected officials in the coming months.
The Northern Virginia Regional Commission (NVRC), a coalition of 14 counties, cities and towns that work together on regional issues, passed a unanimous resolution endorsing Virginia Governor Robert F. McDonnell's call to participate in the 2013 Day to Serve.

Republican says he will defend amendment; Democrat is not so sure.
Virginia's next attorney general will have to stand in a courtroom and make a decision about whether or not the commonwealth's constitutional ban on marriage should be defended. Republican candidate Sen. Mark Obenshain (R-26) has been clear about his support for the amendment and his intention to provide a vigorous defense of marriage. Democratic candidate Sen. Mark Herring (D-33), on the other hand, has yet to take a position on whether or not he will defend the amendment.
Justices deny public access to shield personal conversations.
The Virginia Supreme Court operates in silence, denying public access to audio recordings of its oral arguments. Unlike the U.S. Supreme Court, which denies video recordings but allows audio recordings, the commonwealth's top appeals court has a complete blackout on public access to proceedings. In a written response to questions from Connection Newspapers, the Office of the Executive Secretary of the Virginia Supreme Court explained that audio records were once public, but the installation of new equipment in January 2008 created new concerns for justices.

Redistricting effort puts Fairfax County seats in the spotlight.
Four Northern Virginia state Senators are targets of a Republican-led effort to draw new districts — Sen. George Barker (D-39), Sen. Dave Marsden (D-37), Sen. Toddy Puller (D-36) and Sen. Chap Petersen (D-34). Democrats say the redistricting effort is a cynical attempt to take advantage of the absence of Sen. Henry Marsh (D-16), a prominent civil rights veteran, who was in Washington, D.C. for the inauguration on Monday. But state Sen. John Watkins (R-10) of Powhatan defended the effort as a way to create a sixth majority black Senate district in Southside. It passed the Senate on a 20-to-19 vote.