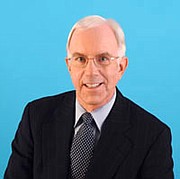 Nancy Pelosi, speaker of the U.S. House of Representatives, named Mike Barnes as Chair of the Governing Board of the Office of Congressional Ethics effective upon the resignation of David Skaggs on July 16, 2021, for the remainder of the Skaggs' term.
Mike Barnes is a Senior Fellow at the Center for International Policy in Washington.
Barnes was a Member of the U.S. House of Representatives from 1978 until 1987 and served as Assistant Majority Whip, and served on the Foreign Affairs, Budget, Judiciary, and District of Columbia Committees. He chaired the Subcommittee on Western Hemisphere Affairs of the Foreign Affairs Committee and the Metropolitan Affairs Subcommittee of the DC Committee.
Prior to his service in Congress, Barnes practiced law at the firm of Covington & Burling in Washington and was appointed Commissioner of the Maryland Public Service Commission and Vice Chair of the Metropolitan Washington Area Transit Commission.
Subsequent to his congressional service he has practiced international law as a Partner at Arent Fox, a Partner at Hogan & Hartson (now Hogan Lovells) and Senior of Counsel to Covington & Burling, from which he retired in 2010, and served as President of the Brady Center to Prevent Gun Violence.
Barnes is also Lead Director and Chair of the Governance Committee of WGL Holdings, Inc and its subsidiary, Washington Gas Light Company, which provides natural gas and electricity service to more than 1,000,000 customers in Maryland, Virginia and D.C.
Barnes is a graduate of the University of North Carolina at Chapel Hill, studied international relations and economics at the Institut Universitaire des Hautes Etudes Internationale in Geneva, Switzerland, and received his Juris Doctor Degree with Honors from the George Washington University Law School where he was an Editor of the Law Review. He served six years in the United States Marine Corps and Marine Corps Reserve, receiving the Vietnam Service Medal and the Good Conduct Medal.