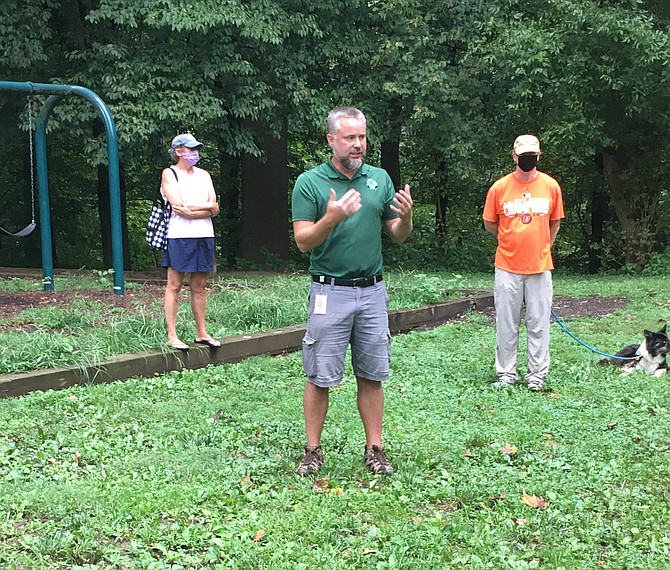 Almost three dozen Cabin John residents turned up Sept. 2 to hear Montgomery Parks trail construction head Bob Turnbull explain why the under construction hiker/biker trail that runs from Seven Locks Rd. at Cypress Grove to the park at the one-lane bridge on MacArthur Blvd. does not follow the old trail, veering away from the creek so many residents loved to walk beside.
"While the new trail offers a lovely multi-use path through the forest, the Cabin John community was unaware that its development would come at the price of our beloved creek trail, which has been enjoyed by [Cabin John] residents and others for decades," Susan Shipp, President of Cabin John Citizens Association, wrote alerting residents to the upcoming meeting.
"When I talked to Bob Turnbull, manager of natural surface trail construction for Montgomery Parks, at the beginning of August for the Village News article, he said there would be some curtailing of access to the old trail where erosion had made it too dangerous. In the past two weeks, the community has come to realize that it appears to be Montgomery Parks intent to destroy the old trail entirely."
In an Aug. 24 letter to Mr. Turnbull, the Cabin John Citizens Association requested that Montgomery Parks stop their efforts to destroy or block the creek trail and to work with the community to maintain the creek trail or even just let it be an unofficial trail."
Hence the Aug. 2 meeting.
"Our concern is not that you are building the forest trail," Susan Shipp, President of Cabin John Citizens Association, said at the meeting. "It's that you are taking away the creek trail."
Others echoed Shipp's opinion.
"I don't think anyone objects to the new trail but why [close the old trail]," Judy Wells asked. "What can we do to save it?"
Wells is a local historian and said she walks the trail every day.
"The old trail is an historic trail," she said. "The creek was originally called Captain John's Run; Cabin John is believed to be a corruption of Captain John."
Turnbull responded to each concern, explaining why the new trail did not follow the old, but was adamant in defending the changes the new trail created.
"In my professional opinion," he said. "What we've built is the best we could do in this area."
"In order to get this new one built, we had to let the other go," he explained. The creek trail suffered from neglect in part because much of it was inaccessible for park maintenance.
"We are going to close what we can't maintain," Turnbull said. "We plan to reforest it."
Construction on the new trail began May 15 and was mostly completed by Aug. 10, ahead of schedule, according to Turnbull.

"There was a bridge needed and that bridge was just completed on Monday the 31st of August," he wrote in an email. "We are now waiting on the signage and maps to be completed."
He said signage and maps should be completed by the first of October.
The trail is open for use, he said.
"As with all natural surface trails projects, the trail is usually open to use way before we are able to sign and map it and share it on our website," he wrote.
After much back and forth there seemed to be a collective sigh of relief when Turnbull explained that according to park rules and regulations it is legal to hike anywhere in the parks, not just on official trails.
It appears that the trail Cabin John residents so wanted to enjoy every day would still be there for them.