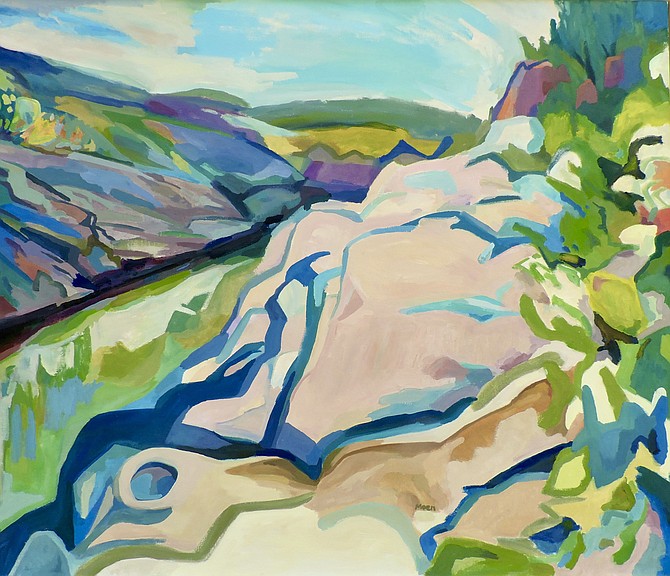 Painter Steve Moen ponders time and the human experience through his solo exhibit Across the Gorge and Other Spaces Between. Moen depicts landscapes marked by passing millennia — places where tectonic shifts have summoned peaks, rains have carved gorges, and erosion has polished hillsides into cliff-faces. Places where the hands of giants have thumbed the terrain into tableaus. His solo exhibit will be on view at The Art League Gallery, Oct. 7 — Nov. 8, 2020.
The Gallery is open to the public Wednesday through Saturday from 11a.m. to 5 p.m., and Sunday from noon to 5 p.m. The works will be available to view and purchase online starting Oct. 8. Moen will also do a live interview via Zoom on Friday, October 9 at 6:00 P.M.
As an avid hiker, beekeeper, mushroom-hunter, and naturalist, Moen's love for the environment is tender as a sapling. He paints the passing of seasons — contrasting an oak tree's fleeting shift from emerald to amber with the ancient, unyielding rocks they grow upon. Moen bases landscapes of respites like the Billy Goat Trail along the Potomac River on paintings he composes on-site, painted on portable pieces of tin flashing. He enjoys using "forgotten" techniques throughout his process, methods humble and bygone; as such, a combination of vinegar and steel wool is all Moen uses to coax tannins from his hand-stained wooden frames.
Moen also holds a lifelong interest in linguistics and writing. He has incorporated this dual passion into his exhibit by coupling each painting with one of his haikus. "I'm very curious about the common roots of human languages, and thinking about language as ancient sounds," he says. "I decided to write haikus for my exhibit because of the sound relationships in their [poetic] structure … and I wanted to see how they enhance the shapes and colors in my paintings."
His former career in commercial printing, where the subtractive color model CMYK uses cyan, yellow, magenta, and black to create a spectrum of other colors, influences the artist's palette. In Finding Self, viewers are treated to a landscape of spearmint hills and blush-hued rocks, everything defined with Moen's characteristically thick strokes of graphic lines. Moen's paintings invite us to take comfort in the season's unwavering cycles and to remember that our human experience is just a single note in nature's song. But it will echo long and far—across the gorge and the spaces in between.
The Art League is headquartered in the landmark Torpedo Factory Art Center at the Alexandria Waterfront, 105 North Union Street, Alexandria, Virginia 22314