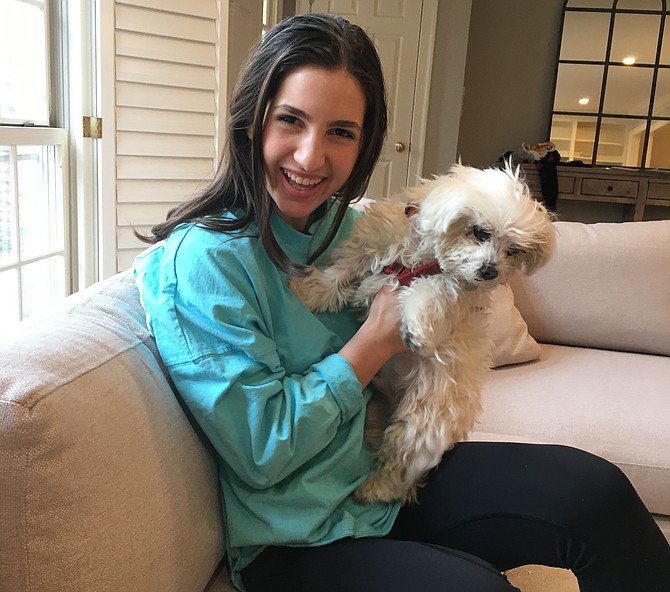 When Sidney Helfand wanted to push Congress to pass the Preventing Animal Cruelty and Torture (PACT) Act, she did what any modern teen would do: head to her computer.
There she started an online petition to get the word out and gather support for the bill.
"I just wanted to help animals and do something to help make a change in the world," Sidney, 16, a sophomore at Bullis School, said.
She said she was in touch with U.S. Rep. Ted Deutch (D-FL), who mentored the bill and decided she would create a petition for it.
So far, the petition, posted in January on Change.org, has about 305,000 signatures according to Wayne Pacelle, the original creator of the bill and former head of the Humane Society of the United States.
"I've been so impressed with Sidney," Pacelle said. "She came up with [the online petition]. This is the thing you hope for, it's been a big shot in the arm."
Pacelle said PACT passed the Senate during each of the last two sessions, but stalled in the House. Even with almost 300 co-sponsors, the bill was blocked by the committee chairman.
"I think with the new Democratic majority in the House, it will pass in the next two months," he said. "Sidney's effort has given it a great lift. The value is not so much her contacting the lawmakers, but getting the interest and asking [others] to contact their lawmakers."
Young people speak with a purity of intention that speaks to lawmakers, he said.
Sidney's interest in making a difference in the world began at an early age, "When I was about four, I had an idea called a Charity Club," she said.
"She was really more like six or seven," her father, David Helfand said. "She wanted to have a charity."
"I'm a dad, I play a supporting role," he said. "She wanted to have a charity."
He said she was a "wonderful nuisance" so he finally agreed.
Sidney now has a 501C3 charity: United Forces for Good.
"It's to have a network to unite people," Sidney said.
When asked who she would like to emulate, Sidney said she would like to be like her sister Alyssa, a freshman at the University of Michigan.
"She has so many passions and she is so focused," Sidney said.
David Helfand's pride in his daughters was obvious.
"I've been blessed with these two amazing kids," he said. "Sidney has been a wonderful handful, wanting to change the world, eventually I stopped getting in the way."
Though the petition to gain support for PACT is Sydney's first petition to influence national legislation, it is not her first attempt to make a difference.
She started an environmental club in her middle school, La Jolla Country Day in California, David Helfand said. There she led a group of students that signed a petition asking the school to stop selling water bottles.
"The head of school took it one step further and agreed to not only do that but to stop selling all single use plastic bottles on campus, David Helfand said.
She also started a Facebook page #TheAnimalWelfareCenter, with the purpose of helping others who want to help animals find a way to do so that is meaningful to them. And she has a new petition site, www.easypetition.org expected to come on line soon.