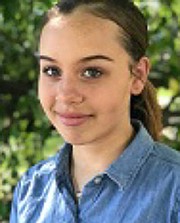 Maryland Center for Missing and Unidentified Persons (MCMUP) issued an alert on Jan. 24 asking residents to be on the lookout for Mahkaylah Hammonds, 15 year old, missing from Potomac since Jan. 21, 2019.
She has multiple tattoos: female symbol on left wrist, trident arrow on right wrist, 301 on left side of hand, number 5 between thumb and index finger, and a heart and number 11 on the left hand. Both sides of her nose are pierced and she wears a cross stud earring.
Anyone having information should call 1-800-843-5678, Montgomery County Police Dept/Special Victims Investigations Division at 301-279-8000, or 911.
See www.missingkids.com/poster/USMD/b190003291/1/screen