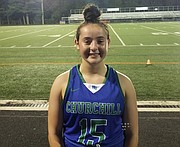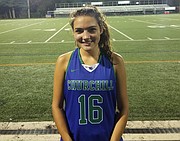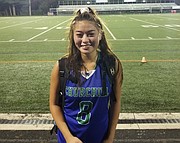 The Churchill field hockey program has experienced plenty of intense situations during recent seasons, including winning back-to-back to 4A South region championships and reaching the 2016 state final.
Facing rival Wootton on Monday, it was a confident sophomore goalkeeper and a "frazzled" junior captain that helped rescue the undefeated Bulldogs from another pressure cooker.
Lucia Alem scored the go-ahead goal during the fourth round of a best-of-five penalty shootout and goalkeeper Allison Jacobs thwarted Wootton's fifth and final attempt to give Churchill a 3-2 victory on Oct. 8 at Wootton High School.
Churchill improved to 8-0 in 2018. The Bulldogs have not lost a regular season game since falling to the Patriots, 3-0, at Wootton High School on Sept. 30, 2015.
On Monday, Churchill appeared on its way to a 2-1 victory in regulation, thanks to a pair of goals from senior forward Lizzie Hsu. However, Wootton earned a penalty corner as time expired in the second half and senior captain Kayla Hill capitalized with a goal to force overtime.
"I got frustrated," said Jacobs, who is in her first season as Churchill's varsity goalie. "It would have been a lot easier to just go off that 2-1 win at the end of regulation. But at the same time, that's what kept me going."
After neither team scored during a pair of 10-minute overtime periods, the game went to a best-of-five penalty shootout. Offensive players started 25 yards away and had 10 seconds to score, a different format than the penalty strokes used in previous seasons.
After allowing the game-tying goal in regulation, Jacobs made two clutch saves during the shootout, including the game-winner in the fifth round, when she cut off her opponent's path to the goal and cleared the ball with her foot.
Jacobs was credited with 10 saves on the evening.
"She's very tenacious and aggressive in a good way," Churchill head coach Cay Miller said about Jacobs. "She's not one to sit back and let things happen. She goes out and stops them from happening."
Alem put Jacobs in a position to make the game-winning save by giving the Bulldogs the lead in the shootout. With the score tied at 2 in the fourth round, onlookers watched No. 16 appear to calmly work her way toward the goal, make a move to her right and knock the ball against the bottom board.
But things weren't so calm under the surface.
Alem was nervous. She had practiced 1-on-1 shootouts against Jacobs but was out with an injury when the team practiced shootout techniques during the preseason.
"I was kind of frazzled," said Alem, a third-year varsity player and team captain. "That was my first time doing shootouts … and I was injured when we were practicing them. … It's pretty tough going in front of a huge goalie. It's 1v1, so you have everybody's eyes on you. … I was a little frazzled, but I kind of just went for it. … I go in and then I see the goalie and I was like, I've got to do something. I can't just dribble into her, so I did the pull right."
Churchill senior captain Alex Sperling and sophomore Natalie Heshmat also converted their attempts during the shootout.
The Bulldogs have the potential to make another deep postseason run under Miller, who took over as Churchill head coach in 2010.
After finishing region runner-up in 2011 and making multiple trips to the region semifinals, Churchill broke through with a region championship in 2016. The Bulldogs beat Springbrook in the state semifinals and reached the state championship game for the first time in more than 30 years before falling to South River.
The Bulldogs repeated as region champs in 2017 before losing to South River in the state semifinals.
"I definitely feel like we do have a little bit of a target on our back," Hsu said, "but everybody in Montgomery County, all of their teams are really, really well respected, they are all really great teams, so we know to never go into a game overconfident. We know that we need to bring our all because we know they will bring their all."
Churchill is scheduled to host Springbrook at 5:15 p.m. on Wednesday, Oct. 10 and travel to face Wheaton at 4:30 p.m. on Friday, Oct. 12.
"It's been a lot of hard work and it has been a challenge not to take things for granted," Miller said. "That the success of one season does not mean that the next season is going to be successful. Each new season, it is important for us to look at with the perspective of earning every win."