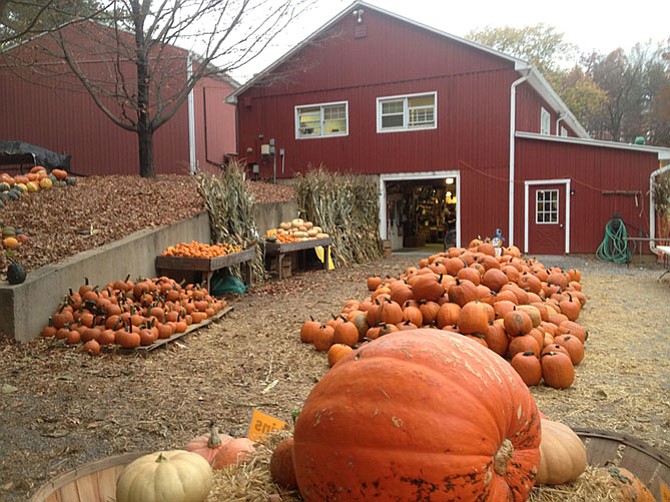 Thursday/Sept. 28
Decade of Design Celebration. 6-9 p.m. at The DC Design House, 9004 Congressional Court, Potomac. This year's Design House is dedicated to Ann Lambeth, who was a supporter of the cause and the design community, open Sept. 30-Oct. 29. $35, proceeds from boutiques and designer sales, with most items in designers' spaces available to purchase, are donated to Children's National Visit www.dcdesignhouse.com/ for more.
Saturday/Sept. 30
National Public Lands Day. 11 a.m.-4 p.m. at Piney Branch, Rock Creek Park in Mount Pleasant., Participants will remove invasive plants and pick up trash in the area, which is designated as one of Rock Creek Park's SOLVE sites, (Sustaining Our Public Lands with Volunteer Energy.) Visit www.rockcreekconservancy.org for more.
Pumpkin Festival Opening Day. Various times at Butler's Orchard, 22222 Davis Mill Road, Germantown. Hayrides, Corn Maze, Jumping in the Hayloft, Giant Slides, Barnyard Buddies and a variety of food. $12. Children under 2 are free. Open various days through Oct. 29. Call 301-972-3299 or visit ButlersOrchard.com
Sunday/Oct. 1
Meet the Author. 3-4 p.m. at The DC Design House, 9004 Congressional Court, Potomac. Dr. Kurt Newman, President and CEO Children's National discuss his book "Healing Children." Visit www.dcdesignhouse.com/ for more.
Food and Photos. 4 p.m. at Glen Echo Arcade, room 302, 7300 MacArthur Blvd. Taste bites from Chef Jonathan Bardzik and Kapnos Kouzina and discuss food photography with Chef Bardzik and his fellow panelists Renee Comet and Debra Moser.$30. Visit glenechopark.org/ for more.
Monday/Oct. 2
Soup Bowl Lunch. 11 a.m.-1:30 p.m at the Hyatt Centric Arlington, 1325 Wilson Blvd. At lunch, about 300 guests will taste unlimited soups from local restaurants, and choose a handcrafted bowl to take home. Every $35 ticket provides 87 meals to neighbors who need our help. Visit capitalareafoodbank.org/empty-bowls for more.
Thursday/Oct. 5
Florals & Fascinators Brunch. 11:30 a.m.-1:30 p.m. at The DC Design House, 9004 Congressional Court. Dress in the Sunday's best and dine on made to order waffles and omelets while listening to special guest. $75. Email lois.gaul@mokimedia.com or call 301-471-1772 for more.
Friday/Oct. 6
Artists Reception. 6-9 p.m at the New Masters Art Gallery, 12276 Wilkins Ave.,
Rockville. Jean Smith, Mimi Betz, Sandra Honda, and Kathleen Carroll will be on hand with their exhibit "Interlude." Visit www.newmastersartgallery.com for more.
Saturday/Oct. 7
Taste of Bethesda. 11 a.m.-4 p.m. at Woodmont Triangle, Bethesda. Nearly 50 restaurants and five stages of entertainment to Bethesda's Woodmont Triangle. Call 301/215-6660 or visit www.bethesda.org for more.
Saturday/Oct. 8
Ride for the Reserve Farm Bike Tour. 8 a.m.-3 p.m. start at Poolesville Golf Course, 16601 West Willard Road, Poolesville. $75. Visit RidefortheReserve.org for more.
Oct. 9-27
Walk & Ride Challenge. Registration is now open for Bethesda Transportation Solution's 2017 Walk & Ride Challenge to inspire businesses in downtown Bethesda and their employees to incorporate walking into their daily routine. Visit www.montgomerycountymd.gov for more.
Sunday/Oct. 15
Seth Glier in Concert. 9 a.m.-3 p.m at Focus Music at Tikvat Israel Congregation Synagogue, 2200 Baltimore Road, Rockville. Fall tour in support of his latest studio album, Birds. Visit sethglier.com for more.
World of Montgomery Festival. noon-4 p.m. at Montgomery College Rockville campus, 51 Mannakee St., Rockville. International music, food, dance, culturally authentic arts demos, and hands-on activities. Visit worldofmontgomery.com/ for more.