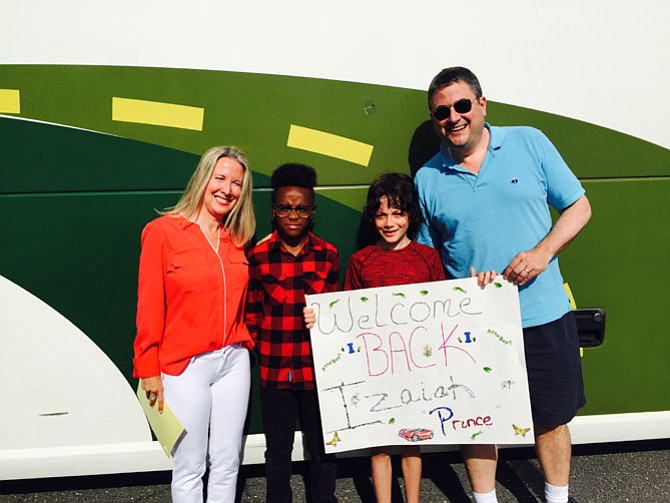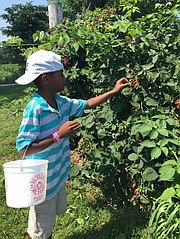 When Sherry and Craig Beach of Potomac heard Diana Carter speak about the Fresh Air Fund at St. Bartholomew's Church last year they had no idea it would be the beginning of a relationship that would bring them close to a family from Rockaway, Queens, N.Y.
Carter is a host mom and volunteer leader for the Fresh Air Fund which provides summer enrichment experiences for children from underserved New York City neighborhoods. She shared her experiences hosting a child and encouraged other members of her parish community to consider becoming part of the program.
"I thought, 'you should always give back,'" Sherry Beach said. "And I thought with Dalton [her 12-year-old son] an only child he would benefit from our participating in the program."
So the Beach family signed up to host 9-year-old Izaiah — last names are not used in speaking about the Fresh Air Fund clients — for one week last summer.
"At first I was a bit skeptical but OK," Dalton said. "I wasn't as open to it as [my parents] were. But we just clicked with each other."
Sherry Beach echoes that.
"As soon as he got off the bus we just fell in love with him," she said.
This year the Beaches hosted Izaiah again not for just one week but for 18 days. Though the first visit with a family is limited to one or two weeks, reinvited children can have extended visits.
The first week, Sherry Beach said, she tried to plan an activity for every day, but soon realized the boys wanted time to just hang out together.
The boys shared their skills with each other.
Dalton is a serious tennis player so he and Izaiah played together and Izaiah taught Dalton some of his arts and crafts ideas. The favorite was making figures with paper and glue.
There were other firsts too. Sherry Beach took the boys blueberry picking at Butler's Orchard in Germantown and Izaiah saw his first donkey on that trip.
"He also wanted to ride on the tractor but we couldn't arrange that," Sherry Beach said.
During Izaiah's visits Sherry Beach said she keeps in touch with Izaiah's family via daily email and sends pictures of the boys. The families keep in touch throughout the year.
One of the values of participating in the program is seeing what Dalton, the only child, would be like if he had a brother, Craig Beach said.
He also added that many people in this area live in a bubble.
"Izaiah helps pop the bubble," he said.
Now that they have been involved with Fresh Air Fund program Sherry Beach said she feels Izaiah has given more to them than they have to him.
"It's good for Dalton, at this age, to know people live differently than we do," she said.
When asked what he thought people should know about the program, Dalton had a simple reply: "Do it — just do it," he said.