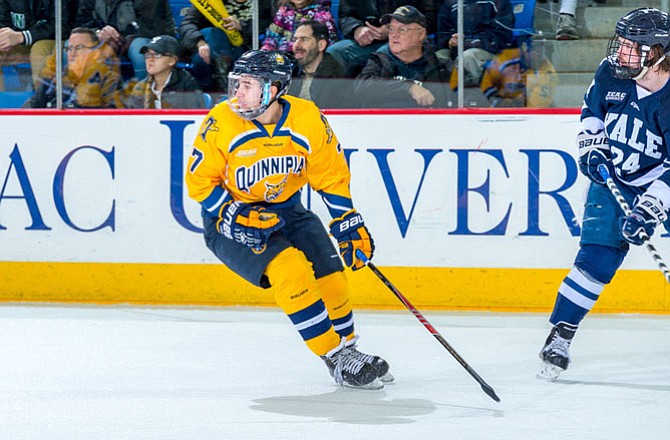 As the top-seed in this year's Division I college hockey's Frozen Four being held in Tampa, Quinnipiac University is using the home team Lightning's expansive locker room. It made quite an impression on Potomac native Sam Anas.
"It's definitely one of the nicest locker rooms I've ever been in," Anas said. "Just to be in the locker room, have your gear in there and see your nameplate above the stall and just think about the players who are usually in there on a daily basis is pretty cool."
Anas played a major part in Quinnipiac's success during their Cleary Cup Championship season and national number one ranking in 2015-16. He was a First Team All-League selection in the ECAC and entered the Frozen Four championship game leading the team with 24 goals and points with 50.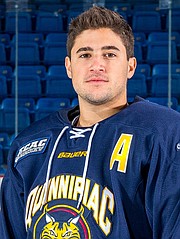 Just this week he was named to the AHCA/CCM Hockey Men's Division I All-American First Team as one of three forwards in the East.
The junior graduated from Landon Prep in Bethesda where he was an All-Metro Player of the Year after leading them to the Mid-Atlantic Prep Hockey League title. From there he spent two years playing junior hockey for the Youngstown Phantoms where he totaled 54 goals and 43 assists for 97 points in 115 career games.
He stands fifth among ECAC active career leaders in total points, second in goals and first in power play goals.
And he is more than proud to be one of the few hockey players who have come from the Potomac region.
"There are lot of rinks in the area, so it's just getting people to play. The toughest part is people from the area tend to leave and go to prep school or leave early to go to juniors. I was fortunate enough to stay and graduate from my high school.
"That really meant a lot to me — my uncle went there and I was there from third to 12th grade, so it's really a special place for me and those are still my best friends back home. And it was awesome that I was able to also play travel hockey there.
"I was actually a late-bloomer and Quinnipiac was actually the first Division I school that I talked to and the only one, so it was obviously a good fit for me and I'm glad it's worked out the way it has.
"It's been the perfect fit for me and I couldn't have asked for anything more.
"It's cool to see a pathway (from the region) being carved by a couple of guys including myself, so it feels good that maybe some more guys can make it in the future."
Anas has been invited in each of the last three seasons to the NHL summer Prospect camp for Montreal, the New York Islanders and Washington Capitals.
"Sam is from a small town in Maryland and it's cool to see that," teammate and classmate K.J. Tiefenwerth said. "He's slowly made an impact on college hockey and I'm sure he's an inspiration to everybody in the state and I'm sure he's a hero at Landon and he deserves to be.
"It's cool when you go to a rink and kids in the area know who you are, they message you on social media or you go to help out at a hockey camp locally. They're looking up to you because I remember when I was that age when a Division I player came you looked at him like he was the next-best thing.
"To follow in those footsteps and leave a little trail behind is cool."
Anas suffered an injury last season in the NCAA West Regional loss to North Dakota and history has repeated itself this year.
During the ECAC playoffs he suffered an undisclosed injury after being hit from behind by Harvard's Luke Esposito and he was an extra forward in the NCAA Regionals round the following weekend.
In the Frozen Four semi-finals, Anas saw only 3-5 shifts per period as the Bobcats coaching staff limited his ice-time.
"For me personally I tried to do everything on the ice that I could. I knew that if I was going to be out there I couldn't have any excuses. If I need to make a play I make a play and if something hurts I push through it.
"For the team I think the biggest thing was to keep my voice on the bench. We're always talking and, if you're not playing, you can find yourself a little less into the game so I did my best to keep the boys going."
Now Quinnipiac is one step from the national championship they so covet with North Dakota again standing in their way.
"I think we've had a belief the whole year and obviously we had a great (unbeaten in their first 17 games) start," Anas said. "And the thing that I think was most important for us, we didn't focus on the big picture. We just focused on what was right ahead of us. We focused on playing the best we can play and playing Quinnipiac hockey. We knew if we did that each game, that good results would come our way."