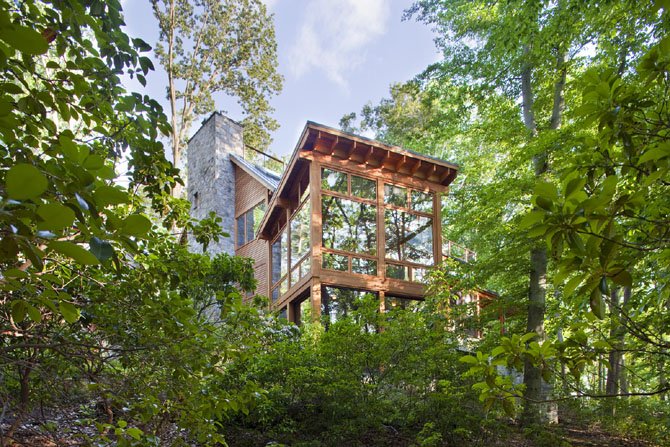 What are the design trends that will define the way we live in 2013? Local tastemakers and design experts break down the trends that will be popular this year.
Potomac, Md., area architect David Benton of Rill Architects says that while architecture is a long-term investment, rather than a passing trend, there are some design and construction techniques that will be in demand in the coming months.
"Sustainable or green design is still growing in popularity as people become more educated on the topic," said Benton. "In the coming year, we expect clients to continue to investigate areas of added energy efficiency. For example, spray-in insulation, geothermal heating and cooling, high quality windows and LED lights, to name a few."
Benton adds that the concept of donating discarded building materials is growing in popularity: "Instead of demolishing an existing house and trucking it to a landfill, we have been dismantling the home and donating the building parts to charities. Everything from kitchen cabinets, counters and sinks, to siding and windows can be donated."
Potomac-area designer Nadia Subaran of Aidan Design believes that creative storage spaces will be big in 2013. "With limited storage space, displaying utensils is a creative and functional alternative to drawer storage," she said. "The hanging knife rack in the butler's pantry is another clever storage technique, as well as a great way to create a visual element along a wall. Another trend we're seeing is open shelving so items are easily accessible and close at hand."
Benton also predicts an increased interest among homeowners in creating rooms that serve dual purposes. "The traditional living room is becoming smaller or has been replaced by the study or library," he said. "Clients want to use every part of their home to get more bang for the buck. Rooms that were only used occasionally or were for show, like the living or dining rooms, are now multi-functional spaces."
The demand for contemporary design will be on this rise. In the past, traditional architecture has been the go-to design of choice in [the Washington-region]," said Benton. "Now clients are more comfortable with contemporary design, not only with the interior layout, but also the exterior. Large expanses of glass and open interiors will continue to grow in popularity for 2013."
When it comes to color, vibrant hues will replace muted tones: "Grey is the new black, and jewel tones like emerald green and fuchsia, mixed in with grays and whites, will be very hot this spring and fall," said Chantilly-based designer Sallie Kjos. "People are going for a much cleaner look, a little more contemporary mixed with traditional."
In the home accents department, Courtney Thomas, of The Picket Fence in Burke says blue and white will be popular this year. "It is a pretty classic combination," she said. "Any sort of décor, like decorative bowls and urns in a blue and white color scheme will be popular."
Thomas also says soy candles will continue to be popular. "They burn clean and last a long time. Floral scents are popular in spring and citrus scents are always big for kitchens."